How often you hear the term, 'Make money while you sleep.'
Yea, tell me about it. DUH, is it even possible? You must have reacted in the same way.
No problem. I did the same 4 years back. Until I made my first dollar with affiliate marketing.
Passive income is everyone's dream, right?
And owning a great affiliate marketing site is like a dream come true.
Because we all want a lot from our lives.
We all want comfortable and luxurious lives for our kids.
We all want our old parents to live comfortably.
We all want to retire gracefully.
But there's a smalll problem.
Many of us don't know how to build a great affiliate site and start making money online even while we are sleeping, that's right?
First of all let me tell you there are no tricks in this guide, so if you think I am going to share some nasty tricks here, you may quit now.
Secondly, as difficult as it may sound, it's not a herculean task, anyone can build up a great affiliate site.
They just need to be sincere in their efforts, persistent and must be willing to reap a fruit that comes as a result of their hard work.
Are you still with me? Great.
So, let's start with a definition of affiliate marketing first,
Smart passive income defines Affiliate Marketing as,
Affiliate marketing is the process of earning a commission by promoting other people's (or company's) products. You find a product you like, promote it to others and earn a piece of the profit for each sale that you make.
So, first you choose an affiliate network, I started with Amazon, (a bit on that later), however, you are free to choose any affiliate program that resonates with your product.
So, now once you register, and verify your account you become an associate to an affiliate program.
And start promoting other people's products, and everytime you generate a sale to them, you earn a fixed fraction (a commission that's set on your niche type), thanks to your great ways of marketing.
You can market any product through facebook groups (build relationships, network with those that might be intrested in your product.
You can promote it via Youtube.
You can promote it through blogging (this is my favorite).
You can promote it through Instagram. (be an influencer, grow your profile).
The whole system is based on revenue sharing.
You have two choices.
Either create your own product, which is something I actually prefer (more on this in next post).
Or promote others products.
Why opt for an Affiliate Marketing Program?
why affiliate marketing, you might be wondering?
There are alot of good reasons to be a part of an affiliate program.
You don't need to invest in a product.
You don't have to physically deliver the product.
You don't have to take care of its packaging and delivery.
You are not responsible for quality assurance, either.
All you have to do is review the product, market it, and earn a commission.
Great, isn't it?
PS: It's equally great if you have a product that you feel is valuable enough to be promoted through an affiliate marketer, they sell your product, and you offer them an incentive in the form of some $$, win win for both of you!
So, now, let's discuss, how can we go about creating a great website.
Create an Authority website that lasts for years
Ok, first things first, build a great website, (not that just quickly ranks on some keywords, but the one that has the power to stay ranked for years).
Now when I say create a site that's built for years, what do I mean?
Don't use shortcuts to create an overnight income stream.

Just focus on building a great website.

How does a great website look like, you might ask?

Well, a great website is built for users, not for the likes of Google.
A great website is focused on solving problems for its users.
A great website has all the relevant information related to the niche.
It has answers to all the questions people actually ask around.
It creates value for its readers.
It has evergreen content that users can come back to even after years, and still find valuable.
It connects directly to its users and build a relationship with them.
It actually makes a user feel that they give a damn about their problems.
It doesn't leave them in the middle but keep on updating their website with fresh content and latest research and technologies.
It doesn't focus merely on selling, but also takes a responsibility to educate audience.
Choose a niche that TURNS you on
You must choose a niche that you are madly in love with.
It should be something that you look forward to writing about each single day.
Something that excites the hell out of you.
Something that triggers adrenaline rush in you, yes it has to be this HOT !
Because, even if you take blogging as a hobby, it should be something that you are genuinely interested in.
Something that you have good knowledge of or at least have the basics figured out.
For instance, some people are naturally tech geeks, they keep updated with latest technologies and inventions, some of you might be into movies and books.
And if you are a homemaker, chances are, you might be interested in home improvement products.
So, you see, if you are REALLY into the niche you are working in, churning out content would be an exciting part of the deal.
You won't have to force yourself to work on your affiliate site every day.
I have often seen people with really bright ideas, yet they are highly demotivated?
Reason is the same, they don't love what they do.
They chose the most boring niche, thinking it will make them quickly rich.
But the fact is it doesn't ignite the spark in them, (not even a bit).
And the passion burns out soon.
And frankly speaking, not many newbies have shitload of money to invest in a writer.
And hiring writers too is also not a great idea (as most of them will just fill the word count).
They won't bring any value in the content they write.
And as a result you won't be able to build an authority on the subject.
You will appear as a mediocre blogger with same copy/pasted content, they can easily read on any other website.
There has to be a reason why your readers stick to your blog.
You just have to figure out this part, rest will fall in place, easily.
Rank keywords
My formula is simple.

I don't conduct special keyword research.

I just provide a solution to the problems.

For instance, if you come to me with a problem, and I give you a great solution.

Wouldn't you want to come back to me?

Of course, you will.

I have built a relationship with you that's based on trust.

When I keep on providing solutions to your problem.

You will consider me a trustworthy source, and consequently will listen to my advice.
When I recommend you something, you will definitely consider buying it.

Now coming back to the keyword research,

When you are focused on providing value to your users,

You won't care much bout the keywords (many websites are only selling throgh this way).

You will start from A and end on Z.

Why create a fuss about keywords?

Just start with basic problems and keep on advancing.

Just like a book, first it has an introduction, then it keeps on taking you to different chapters around the same genre/topic.

First example

If my niche is based on content writing, how can I build a great website?

I will google my keywords 'Content Writing'

And here pops up many questions people ask, or the answers a common man is looking for
I can take each question and craft a well researched blog post around the same questions. (and might throw in my affilites links, too). I might suggest a writing tool, a writing course or sell a coaching program, or maybe recommend some SEO tools or hosting plans.
Discover Simple Writing Tips for Beginners

2nd Example
Another way to do that is scroll to the bottom of the page, you will get more suggestions

Another example
Just type your keyword in the search bar and enter space and google will itself suggest you topics people are looking for

All you have to do is take each question seriously, and satisfy user intent (as discussed in previous posts).

Just create something better than what your competitors have created, you not only have a great chance to rank, but also can build your authority on the subject.

You can also put one of your competitor's link in Semrush (every day there are a few checks that are free)

And see what keywords they are targettings, and why.

Do a proper post mortem of each keyword.

See what other key terms, also knownn as LSI keywords, they are using (other than the main keyword) in their blog post (check frequently used terms, they might be ranking for those).
Check out the tone they are using to attract audience.
Check what knowledge has been shared as well as keenly look for loopholes.
If your competitors are targeting certain keywords, there's no reason, you shouldn't target them.

It clearly means, many people are searching for these terms (why would anyone target the keywords, nobody is looking for).

So, go on give your competitors a tough time by targeting the keyword in much better way than they are.
Win Google's trust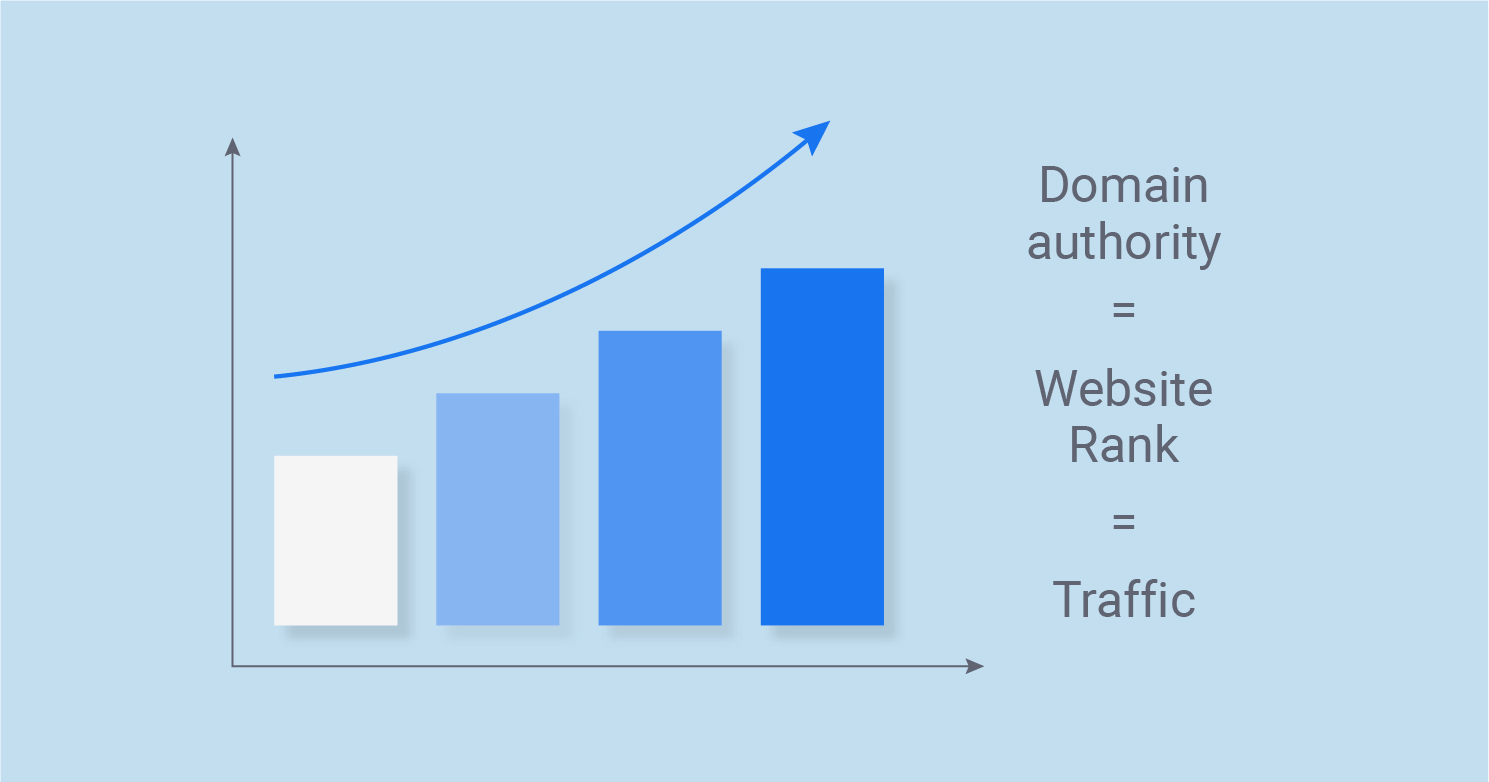 Image Source: SiteChecker
When you keep on updating content for one particular niche.
when you keep on updating your site with fresh, and unique content.
When you keep on interlinking your posts in an order
This will build your authority in Google's eyes. Your domain authority will in crease. (one of the ranking factors ).
Since we all know Google is a search engine that's dedicated to show the most relevnt results to its users.
So when google find your website relevant to all the queries asked by people, it will direct them to your website.
This, consequently will increase your traffic and sales!
Give them a reason
The second most important thing that often many affiliate marketers neglect is, why should anyone read the content on their blog?

So, before writing a killer blog post.

Ask yourself,

How can I make it fun for my readers?

How can I turn this boring topic into something interesting to read?

How can I offer information that's not already available on other websites.

How can I make it more relatable for my readers?

What value my readers will get out the piece I am writing.

How can I solve their problems?

How can I make it so f*cking good that it compels them to share it with their buddies?
So affiliate possibilities are endless, you just have to figure out what resonates with your interest.
Discover the art of Content Writing

Have a relationship with your audience
Every great idea, relationship and business starts with a relationship.

If you are reading this very blog post, its because you have a relationship with me.

That makes you trust my knowledge.

So, develop relationships with your audience, something that makes them trust your knowledge.

They should know that you have empathy for them.

You won't recommend them something that's not a good fit or something that can cause harm to them.

The 99% success of your business is dependent upon how much your audience trust you,

And frankly speaking trusting someone you don't know personally, or a random guy recommending you some stuff is kinda big deal for many people, especially when it has a lot of money involved.

So even before you start selling them, it's important to build a relationship with them.

Otherwise, even if you are successful in selling them something for the first time, but you made them choose a wrong product, they will never recommend you to anyone else, they won't come to your website again.

If you convert at least 10% people as your permanent buyers, it means a win-win for you even if your post isn't ranking well, even if your other businesses are down.

Having returning customers is a blessing that you shouldn't miss.

Don't be biased
Just because you have a chance to promote someone's product, and earn a commission through it, doesn't mean you start promoting the wrong products.

You can't post a biased review.

You can actually play with people's sentiments.

And can also cause harm to their health, which is something ethically wrong.

So don't be so greedy.

The best solution is to personally use the product and see if it's effective.

While it's not possible for every blogger, what you can do is go to different social media platforms, forums, groups or whatever, and personally investigate the product.

You can even go to the product page, and see if people have left some reviews.

You can use the same reviews done by me and mention that you haven't personally tried and tested the product, but you are recommending it due to high ranking and good reviews.

You should also make a point to recommend only those products that have great ranking and reviews.

And you should also mention every feature of the product (remember, that education part), also, make a point to mention every con so that they know your reviews are not biased, but are based on some real research.

It's your unbiased reviews and sincerity with your audience that will make your audience coming back for more.

Be a Stalker
Be a stalker, if you want to win the battle.

Always keep an eye on your competition.

See what people are doing in your niche.

Always keep updated, and always be ahead of your competition.

Make sure to keep on providing updated knowledge

And frequently update your blog.

Don't desert your blog, maybe, people keep on coming back for updated reviews.

We all like to bookmark some blogs, in this case, maybe your is the one they have bookmarked and want to visit later for updates?

Research pain points
You can't market your product or write a great copy, until and unless you are aware of the pain points of your audience.

So before setting out to write on a topic.

You need to understand what is causing pain to your audience.

What is that one problem that they want to solve, or what are the problems that they are desperate enough to solve.

Researching their pain points will give you an insight of their problems, get them interested in your blog.

And also will help you develop an empathetic tone.

Make your content easy to read
Your content should be something that's easy to read and digest.
For example in this post,I am using a lot of bullets, why? Because bullets are a lot easier to read.
Discover How to write a killer blog post when English isn't your first language
Your content should be written in a simple everyday language, that's easy even for a grade 5 to understand. (if your content is complex, it will frustrate your readers, and they will switch to another website.)
It should be free from any ambigudies and techy language.
Your tone should be friendly and emphathetic.
Your copy should directly talk to your audience. (adopt a conversational tone).
Don't be afraid to throw in a joke or add humor.
Avoid jargons. (nobody likes them, not even me).
Avoid writing long paragraphs. (Nobody has time to read them, your buyer just need a quick recommendation, he/she isn't interested in reading a full college essay).
Don't adopt a tone of a school essay (nobody has time or stamina to read boring stuff).
Stay relevant (don't stretch the problem at hand too much). Give them what they want.
Use a lot of subheadings (many people will just add headings, they won't read the whole stuff).
Make use of emotions (but not too much that actually find you dramatic and scam).
Discocver 5 Steps to keep your audience ENGAGED
Sell without selling
Now we all want to make some decent money.

But your copy shouldn't sound extra salesy.

Your content shouldn't appear as if you desperately want to sell them.
You should sound PERSUASIVE but not PUSHY.

It should appear as if you are interested in solving their problems. (and it's alright if you can earn some cash too) but you are NOT at all DESPERATE.

The moment your buyer detects you are focrcing them to buy.

It will turn him/her off.
Take it as long term business
While I highly recommend you to choose a niche that you are PASSIONATE about.

But I should also recommend you treat your affiliate site as a serious business.

And frankly no serious business is built overnight.

It takes some sleepless nights.

It takes sweat.

And sometimes build years.

Then, only you build something that's worth Gold.

So the key here is stay patient, and be optimistic.

Satisfy the user intent
Once you research the pain points of your audience.

You should plan your content accordingly.

You should mention all their pain points.

For eg, if you are reviewing a baby stroller, you should know what mommies are looking forward to in a stroller.

Research on the points below.

What price ranges fit most mommies.
Do they look for quality or price more?
What is the age requirement?
Once you are fully sure what people are mostly looking for, it would be easier to target their needs and plan your content.

And who knows if your content is fit to solve most of their problems, you never know if you hit a commission, too as a reward, right?
You should know plenty about the niche
Remember, there will be some people who will come for review, some will come for knowledge.

And you should satisfy every intent that brings your audience to your blog.

Some people might not buy something from you today, but might come tomorrow, depending on the relationship you have built with them.

So consider a strategy that is aimed to convert your audience every time they visit your blog.
Why amazon?
According to DclCorp,

Amazon is the largest third–party logistics providers (3PL) company in the world. Basically, you ship your inventory to Amazon, advertise your products for sale on the web, and the online powerhouse takes care of the rest. Pick, pack, ship, and even customer service — all done on your behalf

Well, to be honest, conversion on Amazon is better than any other affiliate network.
It's easy to use (you literally have to just copy/paste the links under the anchors).
You can easily put the tables that offer comparison between two products. (all you have to do is install a plugin).
Since it saves cookies, it offers you commission even on products that you are not selling, for eg, you were looking at home products, but you suddenly come across something more interesting and you actually end up buying that product, but you still earn a commission (so for me, this feature of amazon stands up more than any other affiliate network).
Since it uses third party cookies, it shows users the products based on their browsing history (meants it shows the kind of products they are highly interested in ) which increases your chances to land a sale.
What other features make it stand out?

It's free to join (no fee, you just have to generate a sale to get your account approved).
Choose from over a million products
They have simple linking tools to meet your advertising needs and help you monetize your website.
They offer the following tools,

Site strips make everything transparent for you, no bluff, no scam! (You can easily use site stip for a quick view of your earnings)
Image Source: Amazon
Product links help you show your products easily on the website by simply copy/pasting a dedicating link.
Banners also makes it easy to direct your customers to the product pages. (remember any sale can grant you a commission, so use these benners generously.
Image Source : Amazon
So the above tools help you set up your Amazon affiliate program easily on your site, without any hassle, just a few clicks, literally!

And honestly it doesn't cost you an extra dime if you buy through someone's website.
Which product to choose on Amazon?
Ok, if you have a niche in mind, it's great!
But if you don't, you should do the following to find a product for your affiliate site on Amazon.
These are a few golden rules you should keep in mind
The product has to be popular: There's no point in promoting something that nobody's interested buying.There's‌ ‌no‌ ‌point‌ ‌promoting‌ ‌something‌ ‌that‌ ‌nobody's‌ is searching for/ or is interested‌ in ‌buying.‌ (it can be your passion, but if the product isn't what people want to buy online, then, your efforts would be futile).
So, whether you like this part or not, some product hunting research is mandatory, otherwise, you will end up working hard, and feel frustrated and might give up the idea, too.
So, in order to ensure a steady income, you have to carefully pick up a product, this is the most crucial part in affiliate marketing.
For a few bucks here and there, micro niche works, but for real revenue ($$$$) you should target the mass market.
So ‌ how yo‌u find this‌ ‌commission‌ ‌generating‌ ‌monster!‌ ‌ Read on boys, there's more to it, but it's pure common sense, basically!
Do's and don'ts for a product hunting on Amazon ‌
The‌ ‌product‌ ‌has‌ ‌to‌ be medium priced ‌(not too low, neither too high) just decent enough to attract a buyer.
Make sure the‌ ‌product‌ is ‌available‌ ‌from‌ ‌a‌ ‌number‌ ‌of‌ ‌retailers‌ ‌(with‌ ‌affiliate‌ ‌
Programs)‌ ‌
Over saturated product is also another factor that you should take into consideration.
Amazon Best Sellers
According to a study, Amazon generates £3 billion revenue per year from Uk sales alone, pretty amazing huh?
The good news is they have a sexy affiliate program, which offers up to 8% commission! (please refer to the updates rates)
So, if a product is popular on amazon, chances are it's going to sell really well. But how do you find the popular products?
Well, the good news is to find these hot niches isn't a herculean task, anyone can find it.
So here's the golden rule, the Amazon guys are really nice guys, they have made everything crystal clear for you.
In the screenshot below, I have chosen a subcategory, 'Computer and accessories'
Once your subcategory is selected, click on best seller, check the above screenshot.
Now,you'll now get a listing of the best selling products in your chosen category, (based on its order history and popularity). And if a product is in the top 10 sellers in a category on amazon, chances are, it's a pretty safe product for you to start promoting, (considering its popularity, there has to be a decent volume) and makes it worthy to work on.
Price
The most popular product in this category happens to be a monitor priced at £99.99, and my second best seller is $ 139.76, so if I choose to promote the second one, I have better chances to earn a decent commission, right?
Look at another scenario if you promote any product that's priced £8.95 and lets say, you sell it at 6% commission (you have to check commision on your niche type, this is just for example) that's going to make you roughly about £0.44 per sale (remember, you will earn commission on the net amount). This means, for this insane share of commission, we're going to have to sell a lot of this product to make any decent money, one that also covers our writer's cost, domain and hosting too. So that's why you have to consider the price factor before start promoting and putting effort in a particular product.
Many marketers find £100 mark ($150) an ideal fit as it's enough to make them earn a good commission, but also not too expensive that will have to work their pretty ass off to achieve any decent sales.
And we conclude it
So, in short, Search volume (demand of a product), competition (how many people are already working on it), price and commission involved are the factors we have to deeply analyze.
If the niche is unpopular, it's a great omen for you (this means it has a huge potential for you to get more sales) but sometimes unpopular also means no demand for those products.
So do proper research and take considerable time to find a niche that has yet to be found and exploited in the affiliate space. They are rare, but they do exist!
However, I believe in putting my effort in something that's at least worth investing time + effort + money.
With that we have come to the end of the post, I have tried my level best to educate you through different ways you can earn via affiliate marketing and Amazon (and I have personally tried, tested and generated decent revenue using the same procedure) and you can too!

And I have included some of the Amazon affiliate links in the post, since you want to start selling via amazon, you might as well as click on the above links. (don't worry it won't cost you anything extra). It will only motivate me to keep on updating content that's well researched, based on my personal experiences (not something copy and pasted from other websites.

As usual I need your feedback, I would like to know if I was able to solve some of your problems through my content (if not all, I would at least like to help solve a few of them).

So I hope you will take good care of yourselves, until we meet in another post!