Let's face it we are in the middle of global crises — Covid-19.
And things don't look very promising.
But wait, wait, wait…..I DON'T MEAN TO SCARE YOU.
No, that's not the purpose of my post.
Through this post I just want to spread positivity and let you see, there's still hope for you.
There's still light at the end of the tunnel.
Many people have started getting into a depression phase thinking their business is going to destroy, their future seems to be shady, which isn't the case, if you are ready to adapt your marketing during the covid-19 period.
I have a lot to say and a lot to share, so I suggest you not to skimp over the post (no, don't, limit yourself to just reading the subheadings, take out time to read the full post).
I have written this post just to offer SUPPPORT to you! (no personal gains, promise).
Use this as a guide to make your business survival possible during Covid-19.
So without any further ado, let's get started.
11 Retention Strategies for Digital Marketing Agencies During COVID-19
Tip # 1 Empathy
No business can survive without empathy.
No relationship can grow without empathy.
No seller can prosper without showing empathy for his/her buyer.
So empathy is the key to success here.
Empathy is what makes a connection with people.
So the first tip I have for you is be more empathetic towards your clients.
It isn't just about you surviving as an agency, a brand, or a seller, it's about helping our clients survive this, as well.
Be selfless.
Offer freebies if you can.
Offer extra value but charge same/or even less price.
Any way you can show you genuinely care about them. And you understand your customer's pain.
If you are empathetic towards them today, you win their confidence for lifetime.
You have more returning clients, your client retention rate will consequently increase and you will develop better relationships with them.
It's not about making more during the crises, it's about growing together by continually making a shift to your strategies, product lines, service offering and making your offering resonate with your buyer's needs.
I am not asking you to offer free meals or providing services free of cost, it's about making a necessary shift to better accommodate your clients better and have a better understanding of what they are going through.
If you don't adopt empathy as a digital marketing agency or a freelancer, you would potentially lose a lot of business, so don't be mean and think for yourself only.
Give more and expect less, even if it means giving something absolutely free of cost, or less ROI.
Brainstorm ideas and come up with ways you can help your clients overcome this period of crises.
Believe me, little care and consideration during the period of covid-19 will make them stick to you during or even after corona.
It's a win-win for both of you.
It will make you appear as one caring brand who doesn't ditch them during hard times but keep on offering extra support to its clients.
You as a freelance marketer or a digital agency should focus on the following points:
How can I help my clients in the best possible way?
How can I offer better communication?
How can I lead my team/agency and provide better support to them?
How can I make shift of focus more smoother and stress free
Adapting to something new, preparing your company for global crises isn't easy, but with efforts you can overcome this obstacle too.
Tip # 2 Don't use crises to earn more money
The worst thing you can do as a digital marketer or any service provider is to earn huge profits from market's anxieties and fear.
And if you do, trust me, your buyer will not only judge you, but will also keep a grudge against you.
It's a time to unite and bring communities together and offer as much support as you can, no need to get extra greedy.
You will lose respect, and not to mention business too.
Instead you should do this:
Keep your customers informed
A change in company's policy or not, but make sure to keep your customers informed at all times. Adopt proactive measure and update your customers on your Covid-19 policy, or if there are any change in prices, plans, or even if there's a change in company's response rate, inform as early as possible.
For example I received an email from Namecheap stating:
No need to add panic
It's a good idea to keep your customers informed instead of ditching them in the middle of nowhere, since they are the stakeholders. But having said that, there's absolutely no need for you to keep sending alarming messages or create extra panic by sounding melodramatic. Go with the neutral empathetic tone, and let them know you are there to offer them support.  
An example of this below,
Tip # 3 Educate how your brand can help during the crises
It's your duty as a brand/digital market agency/freelance seller to educate your customers how your brand can help them during the crises.
If you are not adding value to customers' lives during crises then you are not a caring brand.
It simply means you don't care enough.
You don't give a shit. You are selfish.
And nobody likes selfish marketers' right? (And please don't take pride being one). Be a caring marketer, care for people and they will care for your brand/agency too.
So how can you spread a word of education?
Create content that educate, inspire and entertain your clients.  Showing positivity when your clients are stuck at home will really help fighting depression. You don't have to help them directly, small gestures speak volumes about you as a marketer/seller.
Clearly communicating the benefits of your services
Share stories how your services have helped other clients during the crises, and how you are willing to help them too.
Tip # 4 Effective communication, flexibility, and empathy
Effective communication, flexibility and empathy are the need of the time. And if you don't adopt these, you might lose many of your customers not because of corona but because you didn't care.
Maybe it's about time to take your team on board and train them on these points too.
Tip # 5 Don't OVER MARKET your services and stop with AGGRESSIVE marketing tactics
It's no time to over market yourself. We are in the middle of crises, and we can do with more support and empathy.
So stop running aggressive marketing campaigns or pushing hard to make more money during the crises.
What world need right now is hope, some positivity. So if you really feel you can add value to people's lives through your services, great. But don't try to trap them into fishy schemes.
Tip # 6 Offer Customized packages
I understand your prospect might be high ticket clients, but you can step down for a while and opt to offer customized packages.
Many service providers are very rigid in their policies, they never come down to accommodate their old customers, which is very damaging to their relationship with their clients.
Selling comes later, first you develop trust. And during crises a brand who focuses on upselling or only think of their company's benefit is prone to lose more business. (Because people don't have money to buy and temperament to take your tantrums) despite your claims of high quality services, still a buyer doesn't have to break an arm and a leg to be able to afford your services.
For e.g., I was on the verge of losing two of my 2 high paying clients but I made them stay by offering them customized packages.
I just offered them substitutes that could resonate with their needs and doesn't cost me any major loses too.
It's all about going an extra mile to make your customers happy. This is one thing that makes them coming back to you.
And not to mention turn them into clients happy too.
Tip # 7 Make your customers feel extra special
An email followed by a caring message such as, "Please keep safe, you are important to us."
"Hope, you are looking after yourself, if there's any way we can offer support to you, please let us know."
"Please keep safe, if you need anything, we are just an email away."
Small gestures like these sometimes have bigger impact.
So go out make your client feel extra special in this pandemic and make your bond extra strong with them.
Tip # 8 Offer Freebies
With your services, consider what you can give away for free. Maybe free training sessions, an eBook, access to your paid course (maybe for a limited time), and tools, so you see, possibilities are endless. It's all about giving back to the community and show unity in desperate times. And not everything is going to support your business instantly, but some strategies will help your business in the long term.
An example of just that below,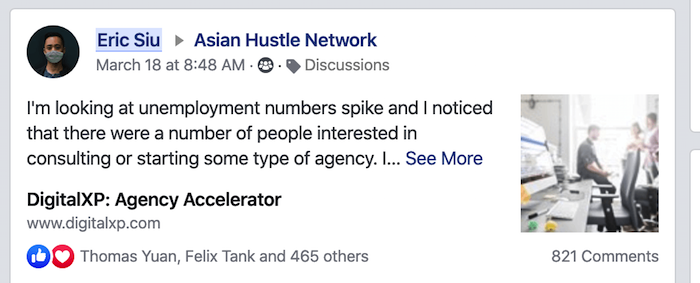 Tip # 9 prioritize your goals
Analyze the content that's already in the pipeline for the coming months.
Decide which campaigns can be pushed back, and which one can be tailored, because your content might not be appropriate for the current crises, either tailor them or put them on hold.
Tip # 10 Sound Positive and cheerful
Since there's so much negativity out there, you can't ease people's pain, but the least you could do is sound cheerful and lively.
Tip # 11 Take advantage of technology, train your customers
Since you can't physically meet your customers now, maybe you can train them to use Zoom, Skype, Teamviewer or any other online app with a friendly and easy user interface to make sure you are effectively communicating with your customers. And communication is no longer a barrier for you.
Let's wrap up
Following the above mentioned tips will not only help your customers in the crises, but will also bring a lot of news customers during the crises of Covid-19.